Submitted by

chandra

on Thu, 2022-05-12 11:41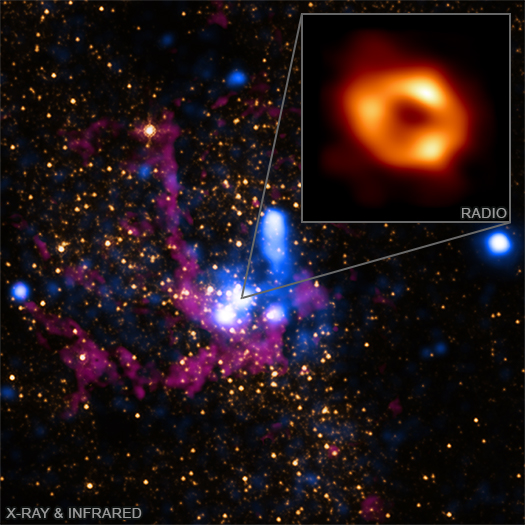 Sagittarius A*: The Black Hole at the Center of the Milky Way Galaxy
Credit: X-ray: NASA/CXC/SAO; IR: NASA/HST/STScI. Inset: Radio (EHT Collaboration)
Many projects in astrophysics involve huge numbers of scientists and other collaborators — often ranging from senior professors to graduate students and undergraduates. A project like the EHT often requires smaller groups within these large collaborations to concentrate on different problems and questions.
The latest result about the Milky Way's central black using many different telescopes in concert with the Event Horizon Telescope (EHT) is an excellent example of such a successful web of groups working together with others in the project to make the sum even greater than its parts.
To learn more about the group behind the "multiwavelength" (MWL) observations that included Chandra and other telescopes, we asked Sera Markoff and Daryl Haggard, two of the coordinators of the EHT's MWL Working Group, a series of questions.