STS-93 - Chandra Deployment Mission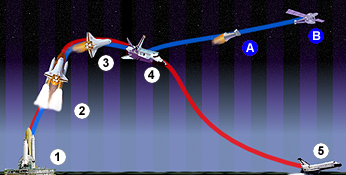 ( 0:00 hours )

The solid rocket motors ignited and Space Shuttle Columbia lifted off.

( 0:02 hours )

The burn of the solid rocket motors was complete and they separated from the shuttle.

( 0:08 hours )

The main engine cut off and the disposable external fuel tank separated.

( 2:00 hours )

Shuttle payload doors opened and at 8:42 hours, a small spring gently catapulted the satellite into space.
Columbia continued to orbit for a few days while conducting science experiments before returning to Earth.

( 9:41 hours )

The first of two solid rocket motors ignited, burned, and separated from Chandra.

( 9:44 hours )

The second rocket fired, lifting Chandra into a highly elliptical orbit. For the next nine days a second propulsion system fired five times to take the observatory to its final orbit.