Geriatric Pulsar Still Kicking
Submitted by

chandra

on Thu, 2009-02-26 11:15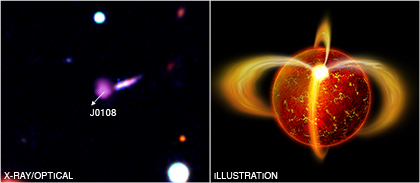 The composite image on the left shows an image from NASA's Chandra X-ray Observatory in purple and an optical image from the European Southern Observatory's Very Large Telescope (VLT) in red, blue and white. The Chandra source in the center of the image is the ancient pulsar PSR J0108-1431 (J0108 for short), located only 770 light years from us. The elongated object immediately to its upper right is a background galaxy that is unrelated to the pulsar. Since J0108 is located a long way from the plane of our galaxy, many distant galaxies are visible in the larger-scale optical image.
The position of the pulsar seen by Chandra in this image from early 2007 is slightly different from the radio position observed in early 2001, implying that the pulsar is moving at a velocity of about 440,000 miles per hour, in the direction shown by the white arrow. The detection of this motion allowed an estimate of where J0108 should be located in the VLT image taken in 2000. The faint blue star just above the galaxy is a possible optical detection of the pulsar.
More at http://chandra.harvard.edu/photo/2009/j0108/
-Kimberly Arcand, CXC
Disclaimer:
This service is provided as a free forum for registered users. Users' comments do not reflect the views of the Chandra X-ray Center and the Harvard-Smithsonian Center for Astrophysics.
Please note this is a moderated blog. No pornography, spam, profanity or discriminatory remarks are allowed. No personal attacks are allowed. Users should stay on topic to keep it relevant for the readers.
Read the privacy statement