Two Tails to Tell
Submitted by

chandra

on Thu, 2010-01-21 09:14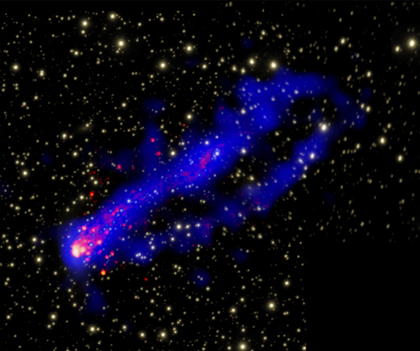 Two spectacular tails of X-ray emission has been seen trailing behind a galaxy using the Chandra X-ray Observatory. A composite image of the galaxy cluster Abell 3627 shows X-rays from Chandra in blue, optical emission in yellow and emission from hydrogen light -- known to astronomers as "H-alpha" -- in red. The optical and H-alpha data were obtained with the Southern Astrophysical Research (SOAR) Telescope in Chile.
At the front of the tail is the galaxy ESO 137-001. The brighter of the two tails has been seen before and extends for about 260,000 light years. The detection of the second, fainter tail, however, was a surprise to the scientists.
The X-ray tails were created when cool gas from ESO 137-001(with a temperature of about ten degrees above absolute zero) was stripped by hot gas (about 100 million degrees) as it travels towards the center of the galaxy cluster Abell 3627. The stripped cold gas evaporates in hot gas. What astronomers observe with Chandra is essentially the evaporation of the cold, which glows at a temperature of about 10 million degrees. In fact, evidence of gas with temperatures between 100 and 1,000 degrees Kelvin in the tail was also found with the Spitzer Space Telescope.
-K. Arcand, CXC
Disclaimer:
This service is provided as a free forum for registered users. Users' comments do not reflect the views of the Chandra X-ray Center and the Harvard-Smithsonian Center for Astrophysics.
Please note this is a moderated blog. No pornography, spam, profanity or discriminatory remarks are allowed. No personal attacks are allowed. Users should stay on topic to keep it relevant for the readers.
Read the privacy statement