AAS News in Action
Submitted by

chandra

on Mon, 2011-01-10 12:34
Today is the first official day of the American Astronomical Society meeting here in Seattle (Twitter user? The hashtag is #aas217). Right now, scientists are announcing the first rocky planet found by NASA's Kepler mission. Later on, there will be a black hole press conference -- including Chandra data! -- and then news from Fermi on the gamma-ray sky. While this news is being announced, here is a little behind-the-scenes information on this process.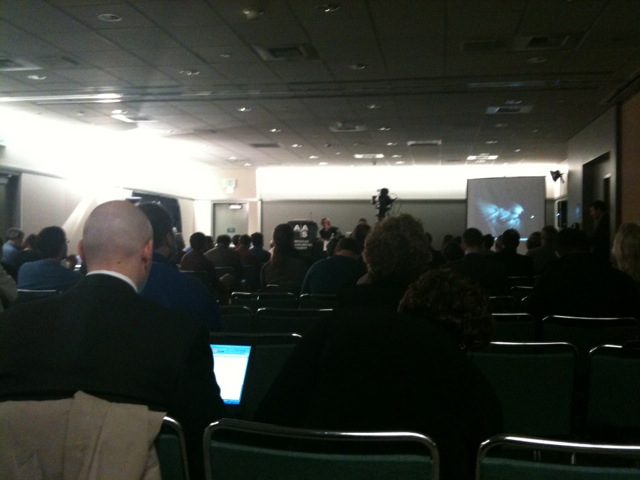 Once the abstracts for the meeting are submitted, many experts, so-called press officers, comb through them to pick out ones that sound the most newsworthy. The AAS Press Officer then organizes press conference panels where the scientists involved make presentations (up at the front in the picture) to the media who have come to the meeting, plus others who can call in or participate via streaming video.
All of this sounds relatively simple, but it actually involves a lot of work from many people. First the scientists who have these results have to do double duty: their "regular" talk to their colleagues, and a second one for the press. The press officers who work with the scientists, either from a specific mission or institution or university, help develop the material like press releases, images, and presentations. And, finally, the reporters need to take all of this information and write cogent stories that appear sometimes within minutes after the press conference has ended.
We'll be posting more information from the Seattle AAS meeting as the week goes on, so check back with us to find the latest from here in the Pacific Northwest and across the Universe.
-Megan Watzke, CXC
Disclaimer:
This service is provided as a free forum for registered users. Users' comments do not reflect the views of the Chandra X-ray Center and the Harvard-Smithsonian Center for Astrophysics.
Please note this is a moderated blog. No pornography, spam, profanity or discriminatory remarks are allowed. No personal attacks are allowed. Users should stay on topic to keep it relevant for the readers.
Read the privacy statement