NASA'S Chandra Finds Fastest Wind From Stellar-Mass Black Hole
Submitted by

chandra

on Tue, 2012-02-21 13:24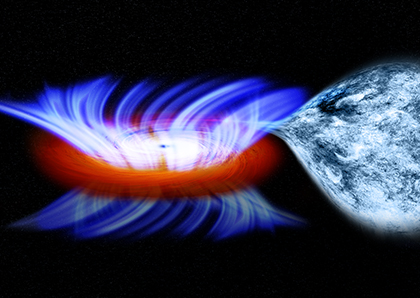 This artist's impression shows a binary system containing a stellar-mass black hole called IGR J17091-3624, or IGR J17091 for short. The strong gravity of the black hole, on the left, is pulling gas away from a companion star on the right. This gas forms a disk of hot gas around the black hole, and the wind is driven off this disk.
New observations with NASA's Chandra X-ray Observatory have clocked the fastest wind ever seen blowing off a disk around this stellar-mass black hole. Stellar-mass black holes are born when extremely massive stars collapse and typically weigh between five and 10 times the mass of the Sun.
The record-breaking wind is moving about twenty million miles per hour, or about three percent the speed of light. This is nearly ten times faster than had ever been seen from a stellar-mass black hole, and matches some of the fastest winds generated by supermassive black holes, objects millions or billions of times more massive.
More at http://chandra.harvard.edu/photo/2012/igr/
-Megan Watzke, CXC
Disclaimer:
This service is provided as a free forum for registered users. Users' comments do not reflect the views of the Chandra X-ray Center and the Harvard-Smithsonian Center for Astrophysics.
Please note this is a moderated blog. No pornography, spam, profanity or discriminatory remarks are allowed. No personal attacks are allowed. Users should stay on topic to keep it relevant for the readers.
Read the privacy statement