A New View of the Tarantula Nebula
Submitted by

chandra

on Tue, 2012-04-17 10:26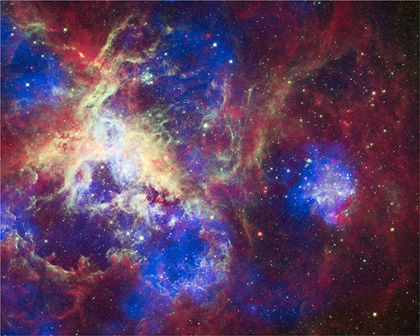 To celebrate its 22nd anniversary in orbit, the Hubble Space Telescope has released a dramatic new image of the star-forming region 30 Doradus, also known as the Tarantula Nebula because its glowing filaments resemble spider legs. A new image from all three of NASA's Great Observatories - Chandra, Hubble, and Spitzer - has also been created to mark the event.
30 Doradus is located in the neighboring galaxy called the Large Magellanic Cloud, and is one of the largest star-forming regions located close to the Milky Way . At the center of 30 Doradus, thousands of massive stars are blowing off material and producing intense radiation along with powerful winds. The Chandra X-ray Observatory detects gas that has been heated to millions of degrees by these stellar winds and also by supernova explosions. These X-rays, colored blue in this composite image, come from shock fronts -- similar to sonic booms -- formed by this high-energy stellar activity.
More at http://chandra.harvard.edu/photo/2012/30dor/
-Megan Watzke, CXC
Disclaimer:
This service is provided as a free forum for registered users. Users' comments do not reflect the views of the Chandra X-ray Center and the Harvard-Smithsonian Center for Astrophysics.
Please note this is a moderated blog. No pornography, spam, profanity or discriminatory remarks are allowed. No personal attacks are allowed. Users should stay on topic to keep it relevant for the readers.
Read the privacy statement