Chandra Finds Evidence for Serial Black Hole Eruptions
Submitted by

chandra

on Wed, 2015-06-10 10:59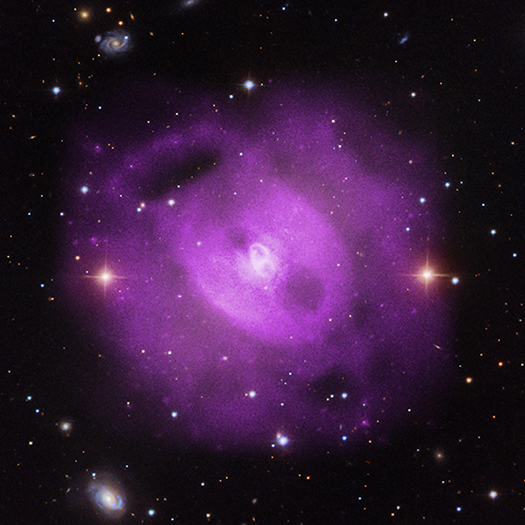 Astronomers have used NASA's Chandra X-ray Observatory to show that multiple eruptions from a supermassive black hole over 50 million years have rearranged the cosmic landscape at the center of a group of galaxies.
Scientists discovered this history of black hole eruptions by studying NGC 5813, a group of galaxies about 105 million light years from Earth. These Chandra observations are the longest ever obtained of a galaxy group, lasting for just over a week. The Chandra data are shown in this new composite image where the X-rays from Chandra (purple) have been combined with visible light data (red, green and blue).
Galaxy groups are like their larger cousins, galaxy clusters, but instead of containing hundreds or even thousands of galaxies like clusters do, galaxy groups are typically comprised of 50 or fewer galaxies. Like galaxy clusters, groups of galaxies are enveloped by giant amounts of hot gas that emit X-rays.
The erupting supermassive black hole is located in the central galaxy of NGC 5813. The black hole's spin, coupled with gas spiraling toward the black hole, can produce a rotating, tightly wound vertical tower of magnetic field that flings a large fraction of the inflowing gas away from the vicinity of the black hole in an energetic, high-speed jet.
The researchers were able to determine the length of the black hole's eruptions by studying cavities, or giant bubbles, in the multi-million degree gas in NGC 5813. These cavities are carved out when jets from the supermassive black hole generate shock waves that push the gas outward and create huge holes.
More information at http://chandra.harvard.edu/photo/2015/ngc5813/index.html
-Megan Watzke, CXC
Disclaimer:
This service is provided as a free forum for registered users. Users' comments do not reflect the views of the Chandra X-ray Center and the Harvard-Smithsonian Center for Astrophysics.
Please note this is a moderated blog. No pornography, spam, profanity or discriminatory remarks are allowed. No personal attacks are allowed. Users should stay on topic to keep it relevant for the readers.
Read the privacy statement