NGC 6357: Cosmic 'Winter' Wonderland
Submitted by

chandra

on Mon, 2016-12-19 16:12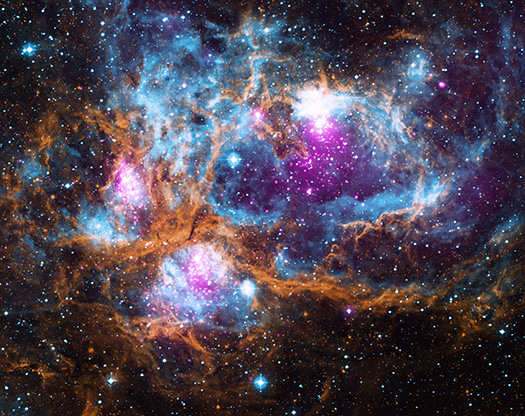 Although there are no seasons in space, this cosmic vista invokes thoughts of a frosty winter landscape. It is, in fact, a region called NGC 6357 where radiation from hot, young stars is energizing the cooler gas in the cloud that surrounds them.
This composite image contains X-ray data from NASA's Chandra X-ray Observatory and the ROSAT telescope (purple), infrared data from NASA's Spitzer Space Telescope (orange), and optical data from the SuperCosmos Sky Survey (blue) made by the United Kingdom Infrared Telescope.
Located about 5,500 light years from Earth, NGC 6357 is actually a "cluster of clusters" containing at least three clusters of young stars, including many hot, massive, luminous stars. The X-rays from Chandra and ROSAT reveal hundreds of point sources, which are the young stars in NGC 6357, as well as diffuse X-ray emission from hot gas. There are bubbles, or cavities, that have been created by radiation and material blowing away from the surfaces of massive stars, plus supernova explosions.
More information at http://chandra.si.edu/photo/2016/ngc6357/index.html
-Megan Watzke, CXC
Disclaimer:
This service is provided as a free forum for registered users. Users' comments do not reflect the views of the Chandra X-ray Center and the Harvard-Smithsonian Center for Astrophysics.
Please note this is a moderated blog. No pornography, spam, profanity or discriminatory remarks are allowed. No personal attacks are allowed. Users should stay on topic to keep it relevant for the readers.
Read the privacy statement