Submitted by

chandra

on Tue, 2023-07-18 13:52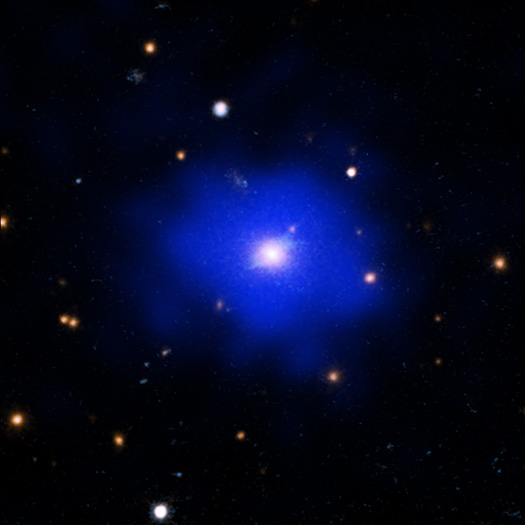 Credit: X-ray: NASA/CXC/MIT/M. Calzadilla; UV/Optical/Near-IR/IR: NASA/STScI/HST; Image processing: N. Wolk
The discovery of the most distant galaxy cluster with a specific important trait – as described in our press release – is providing insight into how these gigantic structures formed and why the universe looks like it does in the present day.
Submitted by

chandra

on Wed, 2023-05-03 14:43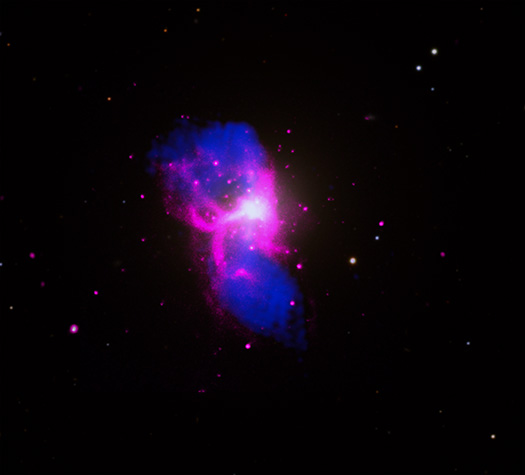 M84
Credit: X-ray: NASA/CXC/Princeton Univ/C. Bambic et al.; Optical: SDSS; Radio: NSF/NRAO/VLA/ESO; Image processing: NASA/CXC/SAO/N.Wolk
With a single letter seemingly etched in the X-ray glow around it, a giant black hole at the center of a massive elliptical galaxy is making a mark on its surroundings.
This "H"-shaped structure is found in a detailed new X-ray map of the multimillion-degree gas around the galaxy Messier 84 (M84).
As gas is captured by the gravitational force of the black hole, some of it will fall into the abyss, never to be seen again. Some of the gas, however, avoids this fate and instead gets blasted away from the black hole in the form of jets of particles. These jets can push out cavities, in the hot gas surrounding the black hole. Given the orientation of the jets to Earth and the profile of the hot gas, the cavities in M84 form what appears to resemble the letter "H." The H-shaped structure in the gas is an example of pareidolia, which is when people see familiar shapes or patterns in random data. Pareidolia can occur in all kinds of data from clouds to rocks and astronomical images.
Submitted by

chandra

on Mon, 2023-05-01 11:46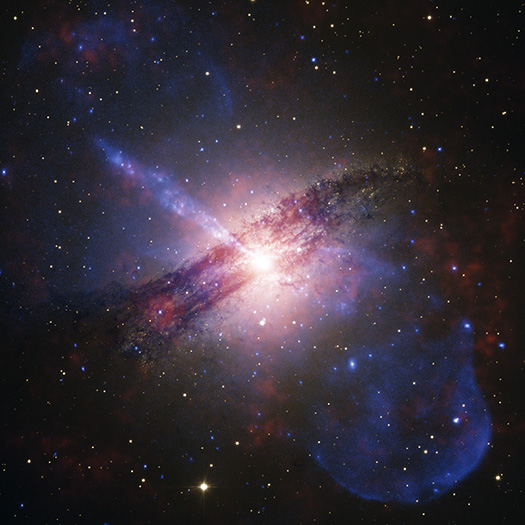 Centaurus A
Credit: X-ray: (IXPE): NASA/MSFC/IXPE/S. Ehlert et al.; (Chandra): NASA/CXC/SAO; Optical: ESO/WFI; Image processing: NASA/CXC/SAO/J.Schmidt
The galaxy Centaurus A (Cen A) shines bright in this image combining data from multiple observatories. In the center of this galaxy is a supermassive black hole feeding off the gas and dust encircling it, and large jets of high-energy particles and other material spewing out. The jet shown at the upper left of this image extends for about 13,000 light-years away from the black hole. Also visible is a dust lane, wrapping around the middle of the galaxy, which may have resulted from a collision with a smaller galaxy millions of years ago.
Colors in this image have been chosen to reflect the sources of data. Blue shows X-ray light captured by NASA's Chandra X-ray Observatory, orange represents X-rays detected by NASA's Imaging X-ray Polarimetry Explorer (IXPE) satellite, and optical light seen by the European Southern Observatory in Chile is colored white and gray.
Submitted by

chandra

on Fri, 2023-02-17 14:49
We are pleased to welcome Marko Mićić as a guest blogger. Marko led the study that is the subject of our latest press release [link to PR]. He graduated from the University of Belgrade, Serbia, with a degree in Astronomy and Astrophysics, in 2018. The same year he started a Ph.D. at the University of Alabama, and has been working under Dr. Jimmy Irwin's supervision since then. His research interests include evolution of low-mass galaxies, AGN content of low-mass galaxies, intermediate-mass black holes and gravitational lenses.
Galaxies are made up of billions of stars, interstellar gas and dust, and large amounts of dark matter. Every (or almost every) galaxy is expected to host a supermassive black hole in its center. Galaxies and their central black holes grow and evolve together predominantly through mergers; smaller objects merge to create larger ones over time. However, the earliest stages of galaxy evolution involving the mergers of the first galaxies are poorly understood. It is unclear how the first mergers affected the morphology of ancient galaxies and their star formation. We also do not know how massive the first black holes were that inhabited the first galaxies, nor how the first mergers influenced their ability to accrete – pull in – material.
It is challenging to answer these important questions because the first mergers are too distant and faint to be directly observed. One way to overcome this issue is to look for local analogs. In other words, we need to find pairs of small, dwarf galaxies that have had very quiet lives, with almost no mergers, that have only recently met and started interacting. Such galaxies have experienced little to no evolution so they are analogs of distant, ancient galaxies, and observations of their mergers would represent the local case study that illustrates the hierarchical growth of structures in the early Universe. Their central black holes are also expected not to have grown much and preserve information about primordial seeds, potentially holding the key to resolving the outstanding problem of the origin of supermassive black holes.
Pages
Disclaimer:
This service is provided as a free forum for registered users. Users' comments do not reflect the views of the Chandra X-ray Center and the Harvard-Smithsonian Center for Astrophysics.
Please note this is a moderated blog. No pornography, spam, profanity or discriminatory remarks are allowed. No personal attacks are allowed. Users should stay on topic to keep it relevant for the readers.
Read the privacy statement