NASA Unveils Website With Spectacular Solar System Images
For Release: May 04, 2011

NASA Ames
MOFFETT FIELD, Calif. – NASA has made available for the public a new online collection of images of our solar system and locations on Earth where astrobiology researchers travel to conduct field research.
Called "From Earth to the Solar System," or FETTSS, the images showcase the excitement of planetary exploration and the journey to understand the origin and evolution of the solar system, and the search for life elsewhere. Images may be downloaded and displayed with the proper photo credit.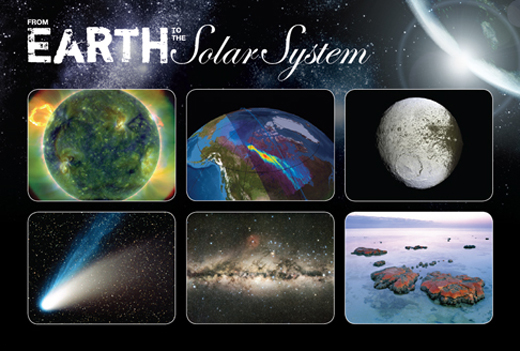 The site is a collaboration between NASA Ames Research Center's Astrobiology Institute in Moffett Field, Calif., and the Smithsonian Astrophysical Observatory, Cambridge, Mass. The collection is being released to celebrate NASA's Year of the Solar System -- a time of unprecedented planetary science mission activity. The celebration runs from October 2010 through August 2012.
The online collection will allow interested individuals, groups and organizations to plan their own solar system exhibits. A NASA-sponsored traveling version of the collection is planned for display at several U.S. locations. This summer, the exhibit will be featured at various locations around the world. These exhibitions are made possible through a partnership with the National Center for Earth and Space Science's "Voyage National Program," Capitol Heights, Md.
For more information and to become involved with the new site, visit: http://fettss.arc.nasa.gov
For more information on NASA's Year of the Solar System, visit: http://solarsystem.nasa.gov/yss
To receive local NASA Ames news, email
local-reporters-request@lists.arc.nasa.gov
with "subscribe" in the subject line. To unsubscribe, email the same address with "unsubscribe" in the subject line.
Media contacts:
Cathy Weselby
Ames Research Center, Moffett Field, Calif.
650-604-4789
cathy.weselby@nasa.gov

Megan Watzke
Chandra X-ray Center, Cambridge, Mass.
617-496-7998
mwatzke@cfa.harvard.edu