Submitted by

chandra

on Mon, 2011-10-10 09:57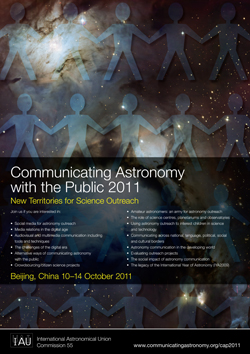 This week, the latest incarnation of the Communicating Astronomy with the Public (CAP) series of meetings is happening in Beijing, China. There have been several of these meetings around the world – Munich in 2005, Athens in 2007, and Cape Town in 2010. Each of these, with a slightly different twist, have been designed to bring those of us who do astronomy outreach and communication together to discuss best practices, new ideas, emerging trends, etc.
This week, the focus will be to look at the ever-evolving landscape of modern communication and how astronomy can – and should – fit in. We are here talking about some of the latest work we've done in what we call "public science". Like public art, public science strives to engage people in their everyday lives. Instead of having the general public stumble across a piece of artwork, we suggest that unintentionally interacting with science could be surprising, inspiring, and beneficial to any efforts to boost scientific interest and literacy.
And, most importantly, we are here to see old and new colleagues and to learn what else is going on around the world in astronomy communication. It's great for CAP to be in Asia for the first time, and we are looking forward to an exciting week.
-Megan Watzke, Kim Arcand et al.