Supernova Explosions Stay In Shape
Submitted by

chandra

on Thu, 2009-12-17 14:07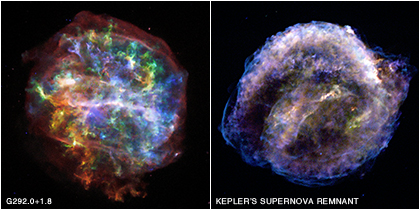 These two supernova remnants are part of a new study from NASA's Chandra X-ray Observatory that shows how the shape of the remnant is connected to the way the progenitor star exploded. In this study, a team of researchers examined the shapes of 17 supernova remnants in both the Milky Way galaxy and a neighbor galaxy, the Large Magellanic Cloud.
The results revealed that one category of supernova explosion, known as "Type Ia," generated a very symmetric, circular remnant. This type of supernova is thought to be caused by a thermonuclear explosion of a white dwarf, and is often used by astronomers as a "standard candle" for measuring cosmic distances. The image in the right panel, the so-called Kepler supernova remnant, represents this type of supernova.
More: http://chandra.harvard.edu/photo/2009/typingsnrs/
-K. Arcand, CXC
Disclaimer:
This service is provided as a free forum for registered users. Users' comments do not reflect the views of the Chandra X-ray Center and the Harvard-Smithsonian Center for Astrophysics.
Please note this is a moderated blog. No pornography, spam, profanity or discriminatory remarks are allowed. No personal attacks are allowed. Users should stay on topic to keep it relevant for the readers.
Read the privacy statement