X-ray Discovery Points to Location of Missing Matter
Submitted by

chandra

on Tue, 2010-05-11 11:23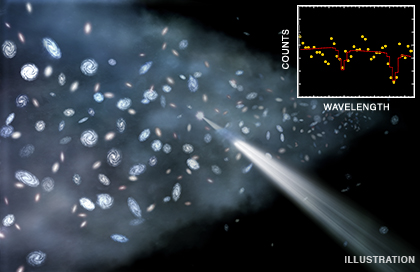 Scientists have used NASA's Chandra X-ray Observatory and ESA's XMM-Newton to detect a vast reservoir of gas lying along a wall-shaped structure of galaxies about 400 million light years from Earth. In this artist's impression, a close-up view of the so-called Sculptor Wall is depicted. Spiral and elliptical galaxies are shown in the wall along with the newly detected intergalactic gas, part of the so-called Warm Hot Intergalactic Medium (WHIM), shown in blue. This discovery is the strongest evidence yet that the "missing matter" in the nearby Universe is located in an enormous web of hot, diffuse gas.
The X-ray emission from WHIM in this wall is too faint to be detected, so instead a search was made for absorption of light from a bright background source by the WHIM, using deep observations with Chandra and XMM. This background source is a rapidly growing supermassive black hole located far beyond the wall at a distance of about two billion light years. This is shown in the illustration as a star-like source, with light traveling through the Sculptor Wall towards the Earth. The relative location of the background source, the Sculptor Wall, and the Milky Way galaxy are shown in a separate plot, where the view instead looks down on the source and the Wall from above.
More: http://www.chandra.harvard.edu/photo/2010/h2356/
-M.Watzke, CXC
Disclaimer:
This service is provided as a free forum for registered users. Users' comments do not reflect the views of the Chandra X-ray Center and the Harvard-Smithsonian Center for Astrophysics.
Please note this is a moderated blog. No pornography, spam, profanity or discriminatory remarks are allowed. No personal attacks are allowed. Users should stay on topic to keep it relevant for the readers.
Read the privacy statement