Exploded Star Blooms Like a Cosmic Flower
Submitted by

chandra

on Thu, 2015-02-12 09:46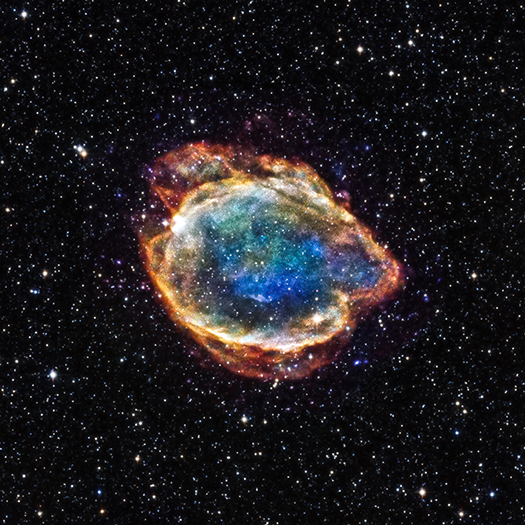 Because the debris fields of exploded stars, known as supernova remnants, are very hot, energetic, and glow brightly in X-ray light, NASA's Chandra X-ray Observatory has proven to be a valuable tool in studying them. The supernova remnant called G299.2-2.9 (or G299 for short) is located within our Milky Way galaxy, but Chandra's new image of it is reminiscent of a beautiful flower here on Earth.
G299 was left over by a particular class of supernovas called Type Ia. Astronomers think that a Type Ia supernova is a thermonuclear explosion - involving the fusion of elements and release of vast amounts of energy - of a white dwarf star in a tight orbit with a companion star. If the white dwarf's partner is a typical, Sun-like star, the white dwarf can become unstable and explode as it draws material from its companion. Alternatively, the white dwarf is in orbit with another white dwarf, the two may merge and can trigger an explosion.
Regardless of their triggering mechanism, Type Ia supernovas have long been known to be uniform in their extreme brightness, usually outshining the entire galaxy where they are found. This is important because scientists use these objects as cosmic mileposts, allowing them to accurately measure the distances of galaxies billions of light years away, and to determine the rate of expansion of the Universe.
Traditional theoretical models of Type Ia supernovas generally predict that these explosions would be symmetric, creating a near perfect sphere as they expand. These models have been supported by results showing that remnants of Type Ia supernovas are more symmetric than remnants of supernovas involving the collapse of massive stars.
More information at http://chandra.harvard.edu/photo/2015/g299/index.html
-Megan Watzke, CXC
Disclaimer:
This service is provided as a free forum for registered users. Users' comments do not reflect the views of the Chandra X-ray Center and the Harvard-Smithsonian Center for Astrophysics.
Please note this is a moderated blog. No pornography, spam, profanity or discriminatory remarks are allowed. No personal attacks are allowed. Users should stay on topic to keep it relevant for the readers.
Read the privacy statement