Lynx
Location:
Northern Hemispheres
Coordinates:
Right Ascension: 08h
Declination: +55º
Source:
Johannes Hevelius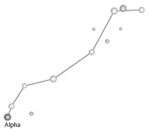 The story behind the name: Lynx is one of the more recently recognized constellations, having been named by astronomer Johannes Hevelius in the 17th century. The constellation was supposedly named because it was claimed to be so dim that it could only be seen by a person with the eyes of a lynx.
This faint constellation contains a few objects of interest. This includes NGC 2419, one of the most distant globular clusters of the Milky Way galaxy. Also in the Lynx constellation, there is the quasar APM 08279+5255, which is used by astronomers to study topics such as black hole regulation and growth.
Introduction to Constellations | Constellation Sources | Constellations Index
Objects observed by Chandra in Lynx: