Supernova Remnant is an Unusual Suspect
Submitted by

chandra

on Tue, 2009-06-09 13:03
A new image from NASA's Chandra X-ray Observatory shows a supernova remnant with a different look. This object, known as SNR 0104-72.3 (SNR 0104 for short), is in the Small Magellanic Cloud, a small neighboring galaxy to the Milky Way. Astronomers think that SNR 0104 is the remains of a so-called Type Ia supernova caused by the thermonuclear explosion of a white dwarf.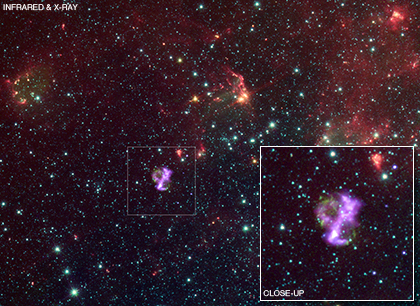 In this composite made of X-rays from Chandra shown in purple and infrared data from Spitzer shown in green and red, SNR 0104 looks unlike other likely Type Ia remnants found in our own Galaxy. While objects such as the Kepler and Tycho supernova remnants appear circular, the shape of SNR 0104 in X-rays is not. Instead, the image is dominated by two bright lobes of emission (seen to the upper right and lower left). The large amount of iron in these lobes indicates that SNR 0104 was likely formed by a Type Ia supernova.
More at http://chandra.harvard.edu/photo/2009/snr0104/
-Kimberly Arcand, CXC
Disclaimer:
This service is provided as a free forum for registered users. Users' comments do not reflect the views of the Chandra X-ray Center and the Harvard-Smithsonian Center for Astrophysics.
Please note this is a moderated blog. No pornography, spam, profanity or discriminatory remarks are allowed. No personal attacks are allowed. Users should stay on topic to keep it relevant for the readers.
Read the privacy statement