Submitted by

chandra

on Thu, 2019-01-24 14:10
NASA's Universe of Learning, or UoL, provides resources and experiences that enable youth, families, and lifelong learners to explore fundamental questions in science, experience how science is done, and discover the Universe for themselves.
To make this goal a reality, this consortium of professional scientists, educators, visualizers, and more work together to create resources for anyone interested in learning about our Universe. The latest product from the UoL is a new visualization of Messier 51, also known as the Whirlpool galaxy. Located about 30 million light years from Earth, the Whirlpool galaxy is a spiral like our own Milky Way.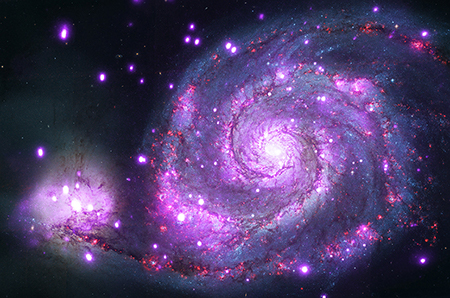 The Whirlpool Galaxy, M51
Credit: X-ray: NASA/CXC/Wesleyan Univ./R.Kilgard, et al; Optical: NASA/STScI