Submitted by

chandra

on Mon, 2020-01-06 00:14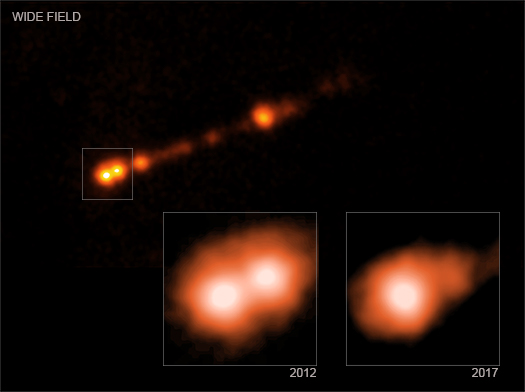 Supermassive Black Hole Jet in M87
Credit: NASA/CXC/SAO/B.Snios et al.
These images show evidence from NASA's Chandra X-ray Observatory that the black hole in the galaxy Messier 87 (M87) is blasting particles out at over 99% the speed of light, as described in our latest press release. While astronomers have observed features in the M87 jet blasting away from its black hole this quickly at radio and optical wavelengths for many years, this provides the strongest evidence yet that actual particles are travelling this fast. Astronomers required the sharp X-ray vision from Chandra in order to make these precise measurements.
The main panel of the graphic shows the entire length of M87's jet seen by Chandra, stretching for about 18,000 light years. "Knots" of X-ray emission seen here are created when material falls onto the M87 sporadically, creating bursts of X-ray light that travel along the jet and away from the black hole. The insets show Chandra observations taken in 2012 and 2017 of a small region near the base of the jet. The source in the lower left is X-ray emission from material around the black hole, and the other source is a knot in the jet about 900 light years from the black hole. This knot moves away from the black hole between 2012 and 2017 and also fades by 70%.