Submitted by

chandra

on Wed, 2017-05-31 09:49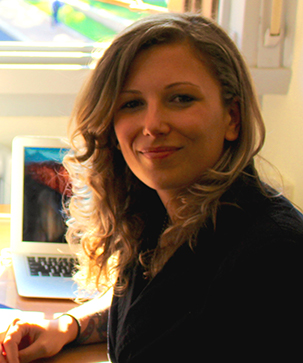 Dr. Edwige Pezzulli
It is a pleasure to welcome Edwige Pezzulli as a guest blogger. Edwige led the black hole study that is the subject of our latest press release. She is a Ph.D. student at the University la Sapienza in Rome (Italy), under the supervision of Raffaella Schneider. During her Ph.D., she spent several months at the Institute d'Astrophysique de Paris (IAP) in France. She has mainly worked on the study of the origin and properties of the first black holes in the Universe.
"As an adult, I'd like to be sent into a black hole!" This is my first memory from childhood on the topic of space.
Since then, I have studied and discovered a lot more about black holes, and yet they still fascinate me in the same way. Considered, for many, the most exotic objects ever discovered, supermassive black holes are the tip of the iceberg of the "dark" side of the Universe. Supermassive black holes are behemoths located in the centers of galaxies and can be among the most luminous sources ever known, from the radiation of surrounding material.
In particular, observations of the Universe's earliest supermassive black holes, with masses about a billion times that of the Sun, open the door to many questions, especially this one: how did these monsters form in such a short time?
Astronomers find black holes with similar masses in the present-day universe, but these black holes have grown to their enormous size over a much longer period of time – about 13.8 billion years – compared to those that formed about a billion years after the Big Bang. In order to tackle the question of how supermassive black holes formed in the very early Universe, it is imperative to make numerous observations of the light they generate while pulling in, ie accreting, matter as they grow.